From a serious game to a tool that builds up your company culture. The true story of how Agile Coaches & People and Culture teams can create together a huge impact.
Summary. We got stuck shaping our culture and we unlocked it working with a cross functional team of coaches, people & culture and designer on 3 tracks: hiring, onboarding, employee experience. We built tools, changed processes and practices on each tracks. We (re)learn that to be successful you need: 1/ a product mindset, 2/ to work with early adopters, 3/ power & influence make a difference, 4/ culture is subtil and needs to be concrete to be adopted. One concrete tool we like is our set of cards; we share it with you in this article.
What does your company culture look like? Do you have principles or values? How do you and your colleagues understand them? How do these principles support your thinking and behavior? If your replies lyes in "Mmmm", "Maybe", "I don't know" or "meh…" well, we've been there and you might find a couple of ideas reading further. Still here? In this article you will discover how we are developing our culture, what challenges we face, and how we solve them, introducing our 5 company principles all along the employee experience: hiring, on-boarding, and being a Bonialer. In this post we make available for you one tool, a serious game we developed for all employees to navigate our culture. It is digital and also a "real" object, we're happy to ship it to your home address, just drop us an nice message principles@bonial.com.
Why does culture matter? Simply put, it makes us strong, it gives us an identity and an orientation on how to work well together. It enables excellent execution on our strategy. It's our garden, we love it, we cultivate it, we nurture it.
I work as a coach for Bonial to support people's growth and value contribution. I envision Bonial being the best place to work; where people have healthy collaboration to innovate. One thing we did to make that happen are these tools I am sharing with you in this post.
What are these principles & what is the challenge?
"Attempting to change an organization's culture is a folly, it always fails. Peoples' behavior (the culture) is a product of the system; when you change the system peoples' behavior changes." John Seddon system thinker.
Some time ago we started to shape our culture around 5 principles:
Own Your Impact: We strongly believe in the power of individual contribution. We create an environment that fosters initiative-taking and accountability that leads to a can-do attitude
People at the center: People are more important than rules and processes. As an international, multicultural, diverse, and inclusive organization, we are proud to have a strong social culture that encourages conversations and builds relationships.
Embrace reality: We value insight more than being right and data is the source of our innovation and decision-making. We expose ourselves to reality as much as possible because this is the fastest way to success.
Leader-Leader: Decisions should be as close to the information as possible, therefore, we deliver clear intent to build alignment that empowers people to execute with autonomy based on open communication.
Idea Meritocracy: We understand that the best ideas are not based on hierarchy. They are not set in stone and evolve over time. We cherish knowledge and curiosity that stimulates structured thinking and nurtures creativity.
Read more about each one of the principles here.
Beautiful but useless if not lived up to; and we observed rare benefits, conflictual interpretations, gaps in understanding or no usage at all. We acknowledge the reality: since the initial creation and sharing, our principles were not concretely present in our work, we had no manifestation of them in for example our all-hands, our office, 1:1s, team meetings or our hiring process… and culture follows structure.
So What? We create concrete and structural elements to enable Bonial's Employees to engage and align with our Company Principles.
How? Developing tools for:
The candidate experience in the hiring process: interview guidelines & workshops for hiring managers to structure interviews around our principles;
The on-boarding experience: every new starters participate in a work simulation to discover, feel and realize how our company principle affects work quality;
The employee experience working here in Bonial: making the principles visible (all hands, office, digital), part of key initiative (e.g 360 feedback) and providing a tool for each employee to navigate and have the principles present.
We build tools for these tracks and we want to share one in detail with you.
Principle Cards for the Employee Experience
We created a tool helping you to have the principle present at any time and anywhere; a tool helping to reflect and develop to embrace our culture.
So, what is our tool? It's a set of cards, each principle is deconstructed in 1/ a call to action, 2/a vision, and typical behaviors accompanied with reflective questions.
How to use it? Just reading the cards alone to gain knowledge, think of the triggering questions, play a self-reflective game, or pull out a card in a work situation to highlight a certain dynamic or unlock a situation.
https://miro.com/miroverse/principles-cards/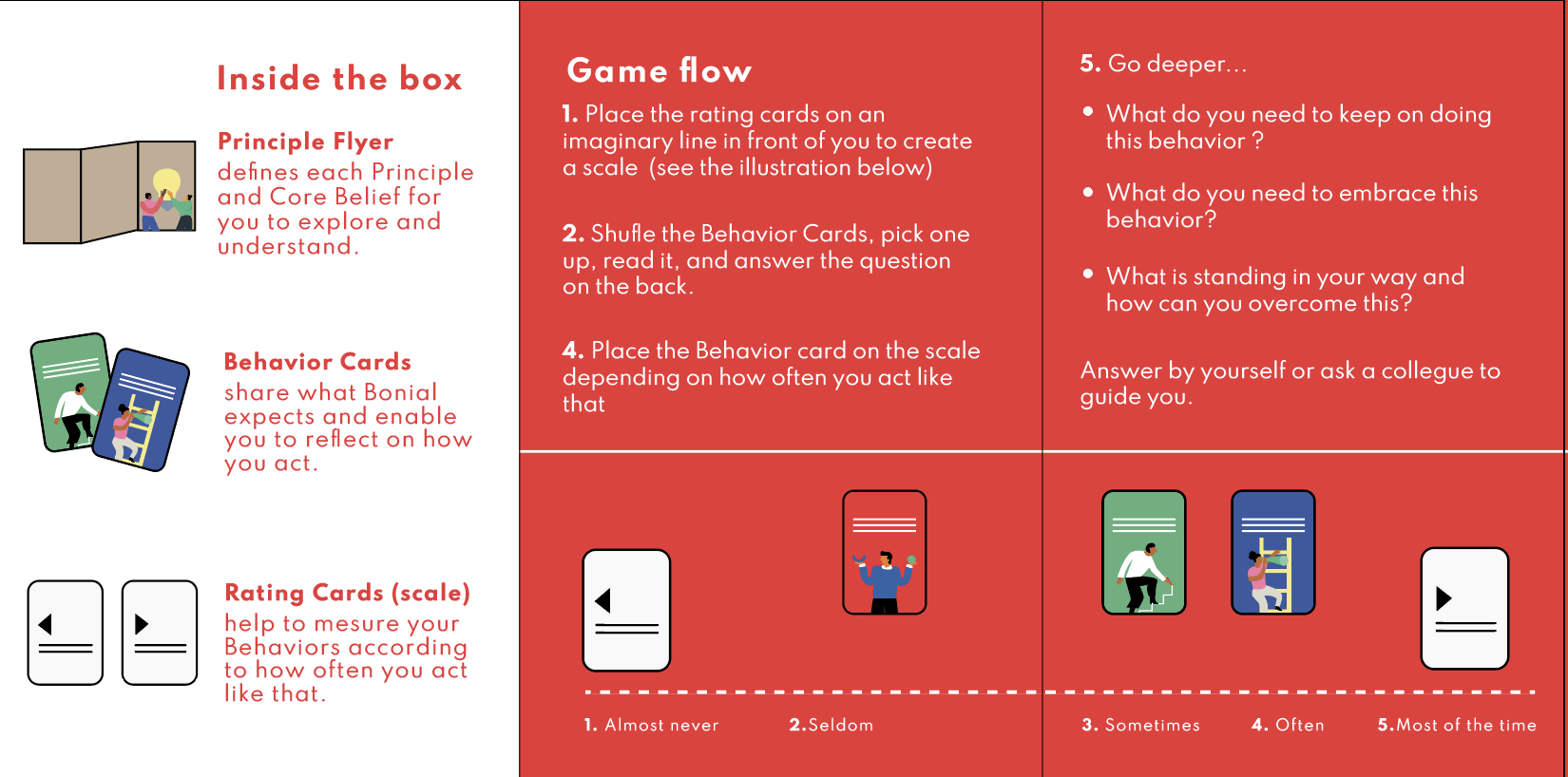 What did we (re)learn ?
Product Mindset works - building tools for employees is like building a product for a market, therefore we treat your organization like a market: we prototype, do user tests, pivote, massively simplify and iterate. Our first version is a digital one using Miro to go fast, we handmade our first draft paper versions and felt insecure to share it. We distribute our principle cards to early adopters and we follow the bell curve of diffusion of innovation to reach our targets: we do not give out the cards, people and teams sign up to workshops to get them 😉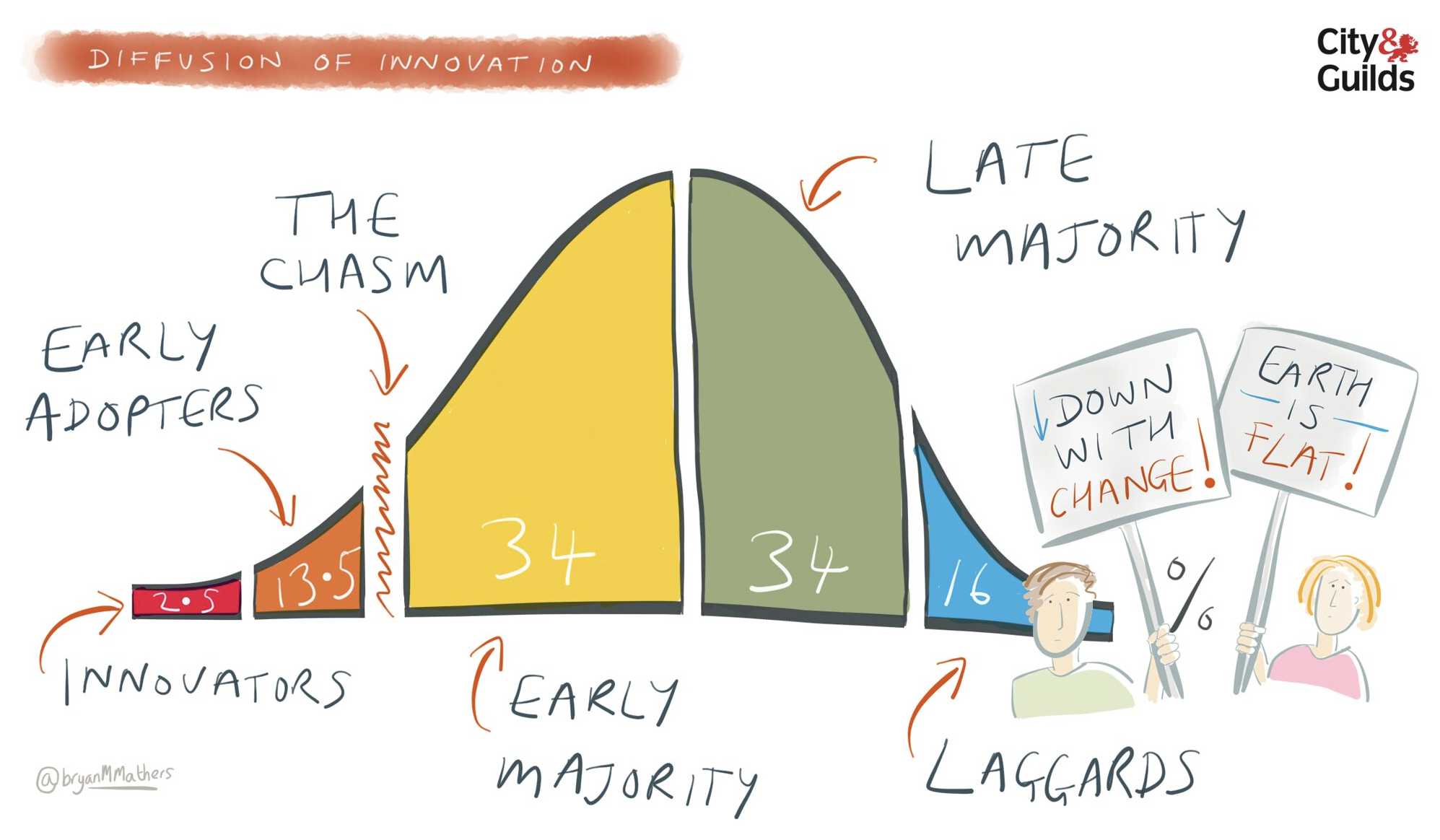 Diversity is key - It takes people from diverse functions, time, and focus to win. For the overall principles initiative activation we've been working half a year and we're still on it. We have a team with contributors from people & culture, design, and agile coaches: the different backgrounds, areas of influence and competencies are key components of success. This group works with a mission, objectives, sync meetings and drive to stay focused.
It takes power to have an impact in the overall organization. You need relationships and the capacity to influence areas like 360 feedback, hiring, tech, all hands, company goals, onboarding, sales, business operations… We're still progressing slowly in some areas.
It is subtle - the Principles cards impact the overall organization, every single word present or not present, every question, every picture is interpreted and has an influence on someone. For example our principle People at the Center was mis-interpreted and had been used as a pretexte to avoid all types of structure or process. So we mind everything, we test a lot, observe and we're honest with ourselves.
Culture follows structures - Principle to become real needs to be visible, present and concrete. Practical tools that gives concrete hows help to make the Principle real and tangible
The Tool for You
So we activate our principles working all along the employee experience - hiring, onboarding, all-hands, 360 Feedback, and we did a deep dive in one tool we provide our employees with to make the principle real and tangible. Our experience was that it requires influence, diverse perspectives, a focused team, time, and that the overall subject is delicate.

We're glad to share with you a digital version of our principle cards, a tool to help you to reflect on principles that contribute to make our leadership strong and our business successful. You, your team or your colleagues might get some solid realization moments and grow ;). If you'd like to have the card set as a "real" object, we're happy to ship it to your home address, just drop us a nice message principles@bonial.com
Author

This article was written by Samir Hanna, Lead Agile Coach at Bonial.